Contact lenses can be a great solution for patients who don't want to wear glasses every day. They're easy to wear after you get used to them, provide clear, comfortable vision, and almost anyone can use them. If you wear contact lenses, though, you may have wondered how long you can keep them.
Can you wear your contacts for as long as you'd like? No, contact lenses do have an expiration date. Let's explore why and how they expire further!
Watch for the Expiration Date
Always check the expiration date before you wear your contact lenses—they can expire. Don't take the risk if your contacts are past date. The box your contact lenses come from should indicate the last date you can wear your lenses by.
Does Your Prescription Expire?
Your contact lenses aren't the only thing that expires—your prescription does as well, making it important to visit your optometrist regularly. They can assess your vision for any potential changes and update your prescription.
Book regular eye exams so you can stay on top of your contact lens prescription.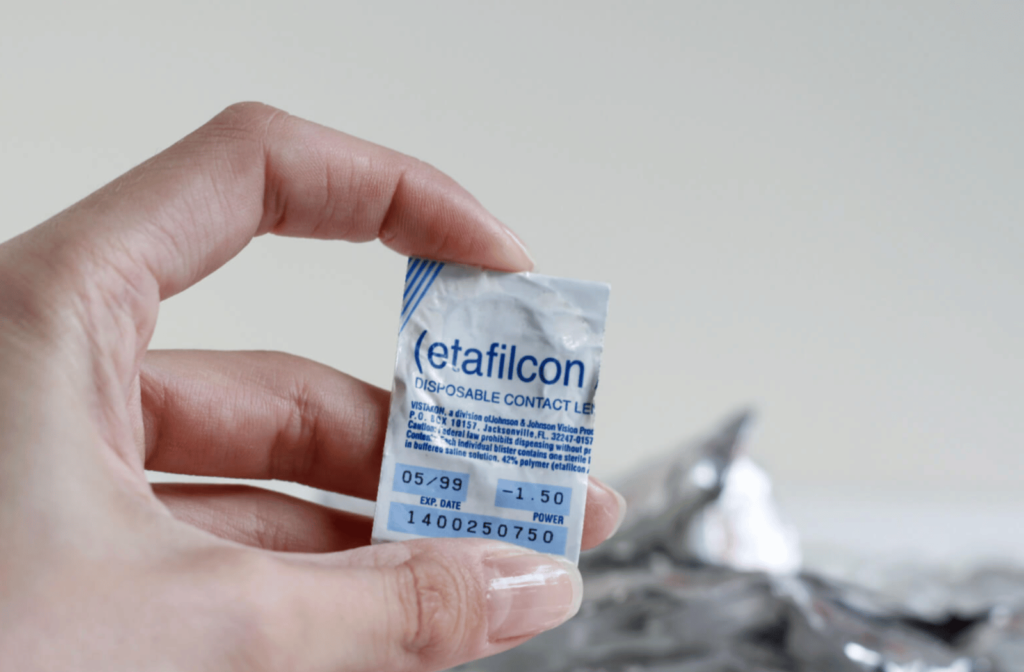 How Do Contact Lenses Expire?
Contact lens manufacturers cannot guarantee the safety of contacts beyond the expiration date listed. Your contacts rest in a secure container, but this seal can break or become damaged, causing the contact lenses or the solution they're held in to become contaminated.
The expiration date for your contacts states the last day you know your contacts are safe to wear.
What Happens If You Wear Expired Contact Lenses?
A broken seal in your contact lens packaging means bacteria can contaminate your lenses. The bacteria present can enter your eye if you wear these expired contact lenses, leading to a potential eye infection.
Eye infections can happen due to many factors, including bacteria, fungi, sleeping in your lenses, and wearing contacts for too long. An eye infection can lead to several uncomfortable symptoms, including:
Red eyes
Blurry vision
Eye pain
Watery eyes
Discharge from the eye
Light sensitivity
Gritty eyes
What Should You Know About Your Contact Lenses?
While contact lenses work similarly to glasses, the process to buy them is a little different. You need a contact lens exam and fitting to help determine the right lenses.
During your fitting, your eye doctor discusses your vision needs, including your lifestyle and habits, before assessing your eyes to determine if contacts work for you. After examining your eyes, they complete several measurements, such as determining the curvature of your eyes.
After finishing your exam, your optometrist will recommend contact lenses and provide proper care instructions.
Take Care of Your Contacts
While contact lenses can be a great alternative to glasses, you need to remember that they're medical devices. You can't grab your contacts off your bedside table right after you wake up—they require proper care and maintenance.
When you first get your contacts, your optometrist will provide instructions on how to care for your lenses. They'll likely recommend you:
Clean your contact lenses daily
Avoid sleeping in your contacts
Only wear your contact lenses for the time instructed
Have regular eye exams to update your prescription
Contact Lens Tips & Advice
Contact lenses rest directly on your eyes, meaning that they can lead to significant complications if not cared for properly. Your contacts require daily maintenance to prevent bacteria from entering your eye.
There are several ways to help prevent potential issues with your contact lenses. The following tips and advice can help protect your eyes and vision when caring for your contacts:
Do not sleep in your contact lenses.
Do not shower, swim, or bathe with your contacts in.
Use optometrist-recommended cleaning and rinsing solution only.
Replace your contacts on the schedule your optometrist provides.
Wash your hands with soap and water and dry them with a lint-free paper towel before handling your contacts.
Use a rubbing method to clean your contacts—rub the lenses with clean fingers and rinse them with saline or multipurpose cleaning solution before storing them.
Never attempt to disinfect your contacts with over-the-counter eye drops.
Replace your contact solution every time you store your lenses.
Do not rinse or store your contact lenses in water.
Do not let the tip of your contact solution bottle touch another surface to avoid potential infection.
Replace your contact lens case at least every 3 months.
Never let your contacts make contact with saliva.
How Long Can You Wear Contact Lenses?
Depending on the type of contact lens suggested by your optometrist, you should replace the contact lens based on the manufactured replacement schedule. For instance, daily contacts should be replaced daily. Biweekly and monthly lenses should be thrown out and replaced biweekly and monthly as the name suggests.
Following proper contact lens hygiene and remembering some of the safety tips can improve your comfort and lens-wearing experience.
Here are a few reasons to keep to your recommended replacement schedule:
1. Safety and performance standards on these lens designs were tailored by the manufacturers for a specific wear schedule.
2. Health Canada also states that you should not wear your contact longer than recommended by your optometrist or eye care professional.
3. Over time the lenses collect deposits from our environment and from our tears that may not be cleaned off during the overnight cleaning cycle.
Deposits can lead to:
A local immune response risks unwanted changes in tissues. This can happen quickly or slowly over time and with little warning or symptoms.
An increased risk of discomfort from additional friction when blinking and mild to severe irritation. It can also promote both infections and/or an immune response leading back to unwanted tissue changes.
An increased risk of blocking oxygen flow through the contact lens to our corneal and limbal tissues. Low oxygen flow to our ocular surface can lead to hypoxia and unwanted changes to our ocular surface.
How Do Deposits Create Complications?
They promote faster formation of additional deposits.
They encourage microbial colonization.
They promote an immune response.
They affect the breathability or oxygen permeability of the lenses.
They create an irregular surface that can rub against your ocular surface or the inner surface of your eyelids.
Find the Right Contacts for Your Needs
Contact lenses expire, but your eye doctor can keep you stocked. Remember to book regular eye exams so your contact lens prescription is up to date. Besides watching the expiry date of your contacts, keep them clean and stored correctly to avoid potential complications.
Your eye doctor is here for all your contact lens-related needs! Contact Downtown Eyecare and the Contact Lens Department today if you're interested in contact lenses.